Free call to listen telephone service for all religious institutions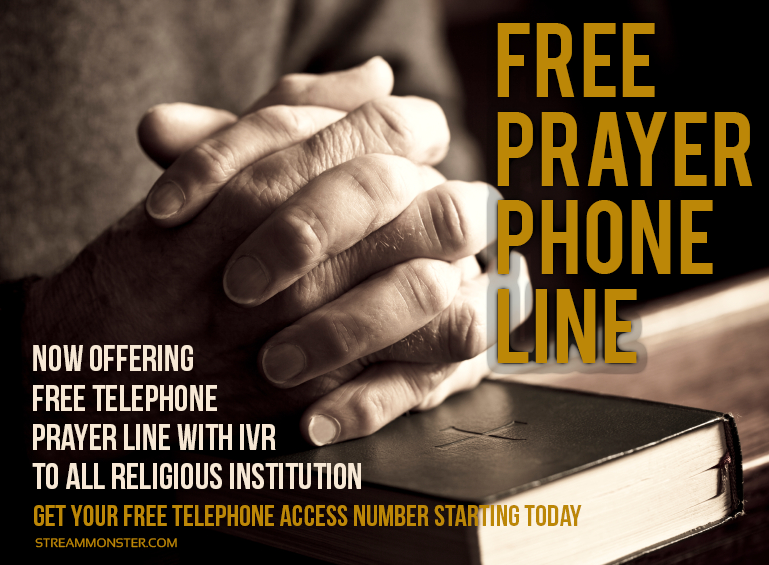 Introducing Free Call to Listen Telephone Prayer Line for Your station.
Stream Monster is now proud to announce that as of November 22 2016 we are offering free telephone prayer lines services with sponsorship support to all religious institutions.

Unlimited listeners with no bandwidth restrictions.
No purchase or equipment required.



How it works ?
Stream Monster provides you with a free local access telephone numbers for US, UK, Canada and more. Your congregation can call your number to listen to your live audio stream, past sermons, Check your show schedules, get audible announcements ,  subscribe to your organization to receive text messages from you about special events and more.
Stream Monster also extend to all broadcasters the ability to accept sponsorship and earn donation.
How to get your telephone access number.
To get your accesss number please follow the following steps.
Open your browser and visit streamerportal.com
Log into to your streamerportal.com control panel using the same user email and password you use to log into your streammonster.com billing panel. streamerportal.com
Click on the "Telephone" option in the left menu bar then click on the "MY IVR" submenu.
On the following page click on the "REQUEST IVR NUMBER" button.
Your local telephone dial in number will then be assigned to your account.

You can then call the number to make sure its playing your stream and all options are working fine. 

for more information please contact our live chat support by visiting  http://streammonster.com and clicking on the live chat button located at the bottom of the page.
No website or html knowledged required.

We have a lot more exciting news coming your way.
If you are unable to view this message in its entirety then please click here